Learn more about the most common fish we catch here at Rudy's Guide Service. Broken Bow Lake's most commonly caught fish are Crappie, Spotted Bass, Smallmouth Bass & Largemouth Bass.  Read below to see what you can expect to catch on our guided trips.
Warning
: file_get_contents(http://fishingbrokenbowlake.com/wp-content/uploads/2017/09/crappie.jpg): Failed to open stream: HTTP request failed! HTTP/1.1 403 Forbidden in
/home/dksvqpmy/public_html/fishingbrokenbowlake/wp-includes/class-wp-image-editor-imagick.php
on line
156
 Crappie's habitats are usually found in lakes, rivers & borrow pits. They prefer areas with little or no current, clear water, with tons of cover. Sometimes found in submerged timber or aquatic vegetation, as well as sand or mud bottoms like those found in lakes, ponds & streams. 
Crappies are typically about 4–8 inches long and less than 5 LBS in weight.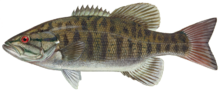 Spotted Bass are commonly found in areas with more of a current than the large mouth, and usually like areas that are too warm and sluggish for small mouth bass. These bass usually stay around water vegetation, submerged logs, and rocks in small to large flowing streams, rivers, and reservoirs.
Spotted Bass are typically 25 inches long and can be up to 11 LBS in weight.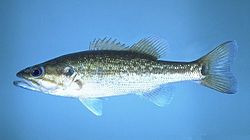 The Smallmouth Bass is found in clearer water than the largemouth.  These bass especally like the rocky areas in streams & rivers. Also commonly found near stumps and sandy bottoms of lakes and reservoirs. The smallmouth prefers cooler water temperatures than its cousin the largemouth and may be found in both still and running water. 
Smallmouth Bass are usually no more than 12 inches in length. The average weight is around 1 LBS .
Largemouth Bass are commonly found in non-flowing, clear, warm water. They like an abundance of  vegetation which provides a place for food and cover if necessary. They're found in rivers, lakes and ponds, though lakes provide preferred habitat.
The Largemouth Bass can reach up to 18 - 20 inches in length with the average weight being 12 LBS.